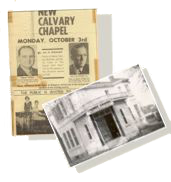 The history of the Calvary Chapel in Neepawa begins with the arrival of Rev. and Mrs E. Cantelon in Neepawa in 1942.
They purchased a house in 1943 (where the present manse now stands) and converted the lower level into a chapel with the upstairs as a residence. The Cantelons also started a Sunday School and Christian Education program with Barry and Donna Gee, along with Helen Burnett, as their students. In 1948 the Cantelons moved to British Columbia.
They were replaced by Rev. and Mrs. G. Fulford, who moved from Hamiota to take up the pastoral duties here.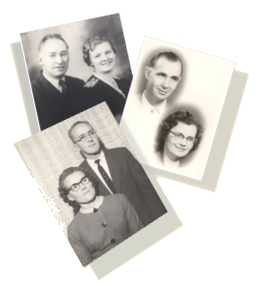 In 1950 Rev. and Mrs. E. Tombs came to Calvary Chapel and continued to build the congregation until 1952, when they were followed by Rev. and Mrs. H. Collver. Under the leadership of the Collvers, the church continued to grow until there was not enough room for the congregation. A new church building was erected, with the dedication of the new chapel taking place in 1955. With the new facilities, complete with Sunday School classrooms, the church experienced its most rapid growth.
In 1958 Rev. and Mrs. R. Wightman were called as the new pastor. They remained until 1961 when they left to do evangelism in Great Britain. They were followed by Rev. and Mrs. L. Preston who stayed in Neepawa until 1964.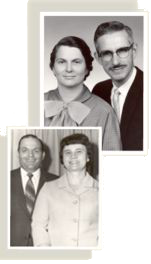 When Rev. and Mrs. I. Roset came to Calvary Chapel in 1964, the congregation continued to grow under their ministry. A new manse was built on the same site as the previous residence, under the direction of Pastor Roset, a very able carpenter. The Rosets remained in Neepawa until 1970. It should be noted that their son, Oral and his wife, Joy, remain in Neepawa to this day, teaching in the HMK School.
In 1970 Rev. L. Clarey and his wife came and served the congregation faithfully until 1973. They were followed in 1973 by Rev. and Mrs. B. Linaker. During the Linaker's ministry, the church and Sunday School again became over-crowed. The congregation decided to construct a new sanctuary and lower auditorium as an addition to the existing church building. Mr. Frank Giesbrecht supervised the building of the new facilities. The Calvary Chapel was dedicated on Sunday, September 23, 1979, with a sanctuary seating capacity of 210, a spacious lower auditorium and excellent Christian Education facilities. The Linakers continued to pastor here until 1981.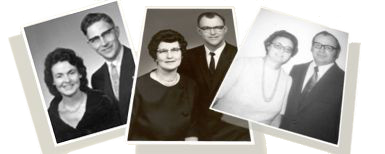 Rev. and Mrs. G. Lybeck came from Tisdale, Saskatchewan in September, 1981. They served faithfully until June 1990. Rev. John and Heather Counsell assumed the leadership in November 1990. In January 1992 the church called Kara Pierce to come as the Assistant Pastor, on a half-time basis. One of the young men from the congregation, also a trained minister, began to date and married Kara in December of that year. His name is Rev. David Kolesar. The Counsells remained until December 1992.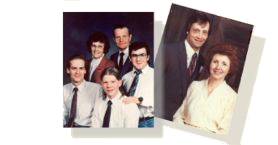 That same month Kara's parents, Rev. Ron and Marilyn Pierce, who had been traveling in evangelistic work, came to Neepawa on an interim basis, for a few months, while the church sought for a new pastor. Very early in the 3 month interim period it was mutually agreed by the Pastoral Search Committee and the Pierce's that Ron be called as the pastor.
And the 3 month stay turned into 8 and 1/2 happy years, that saw the church continue to grow, with many community involvements by pastor and congregation. Kara Kolesar continued to serve as Assistant Pastor until the Kolesar's first child arrived in August 1995. The church hired a half-time secretary and brought on staff a Youth Pastor and a Minister of Visitation, both part-time.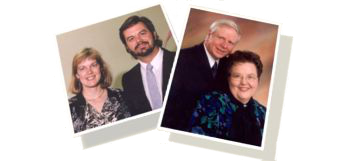 It was also during the Pierce's stay that Calvary Chapel created its own web site and thus, took on a global presence on the Internet. In the fall of 2000, the congregation began conducting two morning services to accommodate the growth in attendance. At the District Conference of the Pentecostal Assemblies of Canada, in the spring of 2001, Ron Pierce was elected as the new District Superintendent, a responsibility that would require the Pierce's to move to Winnipeg.
September 2001, Rev. Evan and Sharon Asselstine and their family came to Neepawa. Beth MacDonald continued on as the visitation/associate pastor and for a short while Nathan Young held the position of youth pastor until he felt called to move to a lead pastor position. The Asselstines remained at Calvary Chapel until May 2017.
From June 2017 till January 2019, Rev. David Heasler became the interm pastor for Calvary Chapel. Pastor Dave travelled weekly to Neepawa, helping with Kidzone on Friday nights and preaching God's word on Sunday. At the end of January 2019, Pastor Linda MacLeod became our interm as Rev. Heasler took ill while on holidays. We are thankful for both of these pastors that gave us leadership and encouragement during this time.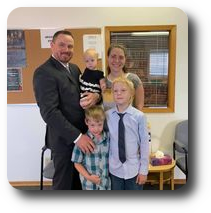 The winter of 2020 brought a new circumstance to our church, with Covid-19 hitting the world. Services were cancelled and we began posting messages on-line. A new adventure for sure! During this time the church also began to connect with a possible pastoral candidate, and the restrictions of travel etc. caused a delay, but with rejoicing, we welcomed a new pastor on August 2, 2020. James Anderson, his wife Leah and sons Brenden and Kian moved to Manitoba. Shortly after moving to Manitoba, Pastor James and Leah welcomed their third child, daughter Evelina, to the family.